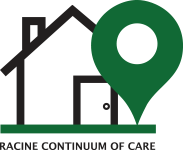 Racine Continuum of Care
The mission of the Racine Continuum of Care (WI-502) is to coordinate organizations in Racine County to prevent and end homelessness. The types of services offered by the CoC and Alliance member organizations include street outreach, emergency shelter, transitional housing, rapid re-housing, mental health counseling, health care, civil legal services, and more.
Currently, the CoC is recognized by federal, state, and local governments as the entity responsible for carrying out the regulatory requirements found in the HUD CoC regulation. These responsibilities include planning, implementing, coordinating, and evaluating a continuum of services to prevent and end homelessness!
The Continuum of Care does not provide direct services
Eviction Prevention and Emergency Rental Assistance
The US Supreme Court has overruled the CDC's temporary Eviction Moratorium. [updated 08/30/21]
WI EMERGENCY RENTAL ASSISTANCE PROGRAM
The Wisconsin Emergency Rental Assistance Program (WERA) assists qualifying households with up to 12 months of assistance for current and/or overdue payments due to the COVID-19 Pandemic. Visit rkcaa.org/wera for more details.
EVICTION PREVENTION INFORMATION
Racine County's Here to Help can assist you if you have recently received an eviction notice.
---
You have been experiencing a substantial loss of household income because of a layoff or reduced work hours, or you have extraordinary out-of-pocket medical expenses
You have been making your best effort to make partial rent payments as close to the full amount due as possible; and
Being evicted would cause you to become homeless or you would have to move in with a friend or family member
---
Fight to End Exploitation has multiple webinars and workshops coming up in April and May. Registration is now open! 
All ...
JOIN OUR
MAILING LIST
Stay up-to-date on
Racine CoC meetings,
updates, opportunities,
and events!
SUBSCRIBE