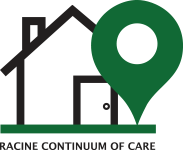 Racine Continuum of Care
The Racine Continuum of Care (WI-502) mission is to coordinate organizations in Racine County to prevent and end homelessness. The types of services offered by the CoC and Alliance member organizations include street outreach, emergency shelter, transitional housing, rapid re-housing, mental health counseling, health care, civil legal services, and more.
Currently, the CoC is recognized by federal, state, and local governments as the entity responsible for carrying out the regulatory requirements found in the HUD CoC regulation. These responsibilities include planning, implementing, coordinating, and evaluating a continuum of services to prevent and end homelessness!
The Continuum of Care does not provide direct services to individuals and families. We work with service providers who do provide those services, such as HALO shelter, HOPES Center, SAFE Haven of Racine Youth Shelter, and Women's Resource Center of Racine.
If you or someone you know needs services, please click on our link below for Homelessness Resources or connect with 211 Impact for resources available. 
WI Health Care Coverage
Open Enrollment Begins Soon
2023-2024 Highlights to share with your clients
---
HealthCare.gov Open Enrollment is November 01-January 15.
Consumers will continue to get extra financial help on HealthCare.gov through 2025.
Public benefits for food, housing, and health insurance are safe for immigrants and their families to access.
Health insurance companies are required to have more standard plans on HealthCare.gov, simplifying plan comparison and selection.
HealthCare.gov will now accept a consumer's confirmation of income even when IRS income data does not match.
After January 01, anyone who loses Medicaid will have a 90-day special enrollment period. During Unwinding, this period is even longer.
Employers are required to give a 60-day special enrollment period to their employees who lose Medicaid.

Employees may need to advocate for this.

Agents, brokers, and web-brokers are now required to document consumer consent before enrolling them in a plan and will need to keep a record of consent for 10 years.
Navigators and Certified Appliction Counselors already have to collect consent before they can help with HealthCare.gov or Medicaid enrollment.
Wisconsin's 2024 QHPs and contact information by County
Source: Covering Wisconsin: www.coveringwi.org (Info effective as of 10/26/23)
JOIN OUR
MAILING LIST
Stay up-to-date on
Racine CoC meetings,
updates, opportunities,
and events!
SUBSCRIBE