Racine Continuum of Care
The mission of the Racine Continuum of Care (WI-502) is to coordinate organizations in Racine County to prevent and end homelessness. The types of services offered by the CoC and Alliance member organizations include street outreach, emergency shelter, transitional housing, rapid re-housing, mental health counseling, health care, civil legal services, and more.
Currently, the CoC is recognized by federal, state, and local government as the entity responsible for carrying out the regulatory requirements found in the HUD CoC regulation. These responsibilities include planning, implementing, coordinating, and evaluating a continuum of services to prevent and end homelessness!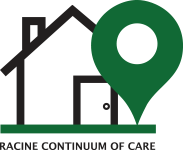 August 20, 2021, 9:00 a.m (log-on begins at 8:45 to allow us to begin the meeting at 9:00). 
Guest presenter ...
JOIN OUR
MAILING LIST
Stay up-to-date on
Racine CoC meetings,
updates, opportunities,
and events!
SUBSCRIBE