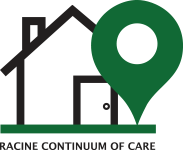 Racine Continuum of Care
The Racine Continuum of Care (WI-502) mission is to coordinate organizations in Racine County to prevent and end homelessness. The types of services offered by the CoC and Alliance member organizations include street outreach, emergency shelter, transitional housing, rapid re-housing, mental health counseling, health care, civil legal services, and more.
Currently, the CoC is recognized by federal, state, and local governments as the entity responsible for carrying out the regulatory requirements found in the HUD CoC regulation. These responsibilities include planning, implementing, coordinating, and evaluating a continuum of services to prevent and end homelessness!
The Continuum of Care does not provide direct services to individuals and families. We work with service providers who do provide those services, such as HALO shelter, HOPES Center, SAFE Haven Youth Shelter of Racine, and Women's Resource Center of Racine.
If you or someone you know needs services, please click on our link below for Homelessness Resources or connect with 211 Impact for resources available. 
CoC Program Funding Opportunities
FY 2023 CoC Program Competition
June 08. 2023 Agencies submitting a renewal application for FY2023 CoC Funding should have APR (FY23) confirm data accuracy by June 8, 2023, by 5:00 PM CST. If you are done before that, please email Iraida to let her know.
May 10, 2023 Deadline to email CoC Director of intent to reapply.
FY 2023 CoC Program Registration for Collaborative Applicants and United Funding Agencies (UFAs) closed March 2, 2023, at 5:00 PM EST.
The CoC Review process will be announced via listserv. CoC Registration and CoC Review resources are available.
View FY 2023 Funding Opportunity.
Please review the Diversity, Equity, & Inclusion statement that the DEI workgroup crafted. Please read and provide feedback on this statement by Friday, June ...
It's that time of year when the CoC Rating and Ranking Committee reviews the CoC-funded projects for the upcoming NOFO ...
JOIN OUR
MAILING LIST
Stay up-to-date on
Racine CoC meetings,
updates, opportunities,
and events!
SUBSCRIBE